What happens if I do not re-pay my student loan?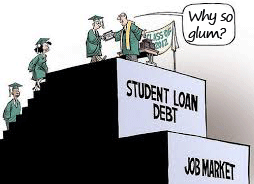 Student Loans for college can be one of the most significant debts one may ever incur, both in a good way, and potentially bad.  They are necessary for many to attain their educational goals and aspirations, but on the back end, once done with school, they are waiting and, if not managed properly, can haunt people for life.
By some estimates, nearly one in three student loan borrowers in the US that are in repayment are actually behind on their payments.  Six months after graduation student loans come due and the first payment request will come to the door.  Many students I've worked with in the past were not even aware that, if graduating in a traditional form, in May, November meant loan payments were to be waiting and the lender expecting a nice response! 
While some take it on as a responsibility and manage their debt accordingly, others tend to put a blind-eye to the subject and that is a dangerous approach especially when dealing with the federally funded loans.  Let me explain.  Any loan is an agreement, a contract, that gives one money now, in the present, with agreed terms that you repay it back over time with interest.  The interest (and penalties) being where the loan providers make their monies so when repayment doesn't happen according to the terms signed on for, the lenders tend to take it seriously.
Ignoring your debt only makes it worse in a general sense.  While some loans can be 'negotiated' away or walked away from with minimal (relatively) negative effect, when it comes to student loans in particular, there is truth in the adage that if ignored it will only get worse. Student loans don't just go away, and the consequences of making no attempt to pay or resolve them can be severe.
Sometimes one even 'ignores' their loan by accident.  For example, many students I've worked with have been under the misconception that by deferring loans, say attending grad school for example, that the loans just sit there doing nothing.  While partially true, 'doing nothing' in that there is no immediate expected re-payment, when they come due after the deferral time frame, what's now waiting in addition to the loan, is all the new accrued interest that HAS been racking up on the meter while the deferral time has ticked away.  The loan doesn't just sit there inert, interest is adding up and added on to the original tally, so while your payments may have been deferred for a year or two, the interest has grown and is tacked on and your debt has ballooned more.
So, what DOES happen if student loans are ignored and/or mismanaged?
1) the debt will simply grow.  Predictably, account-ably, the maths increase and one gets deeper in debt.  Interest will continue to accrue and be added on as payment balances, that seem so daunting now, will only get even larger.  Additionally, loans that go into collection will incur additional penalties that can increase costs up to a significant percentage (State law, depending on where, may limit collection costs).
2) Credit scores will suffer and especially bad at a time when trying to build this number.  Late payments will appear on your credit reports and your credit scores will go down.  Negative information may be reported for up to seven years, and for many graduates their credit scores are more important than their college GPA's when it comes to real life.  Need an apartment?  Many landlords are checking credit scores to measure potential tenants.  Need a car?  Credit scores are used to determine your risk and loan interest rate.  Want a job?  Many employers, more as time goes on, are checking credit scores as a way to determine how well one manages responsibility.
3) You will eventually go into default.  Federal loans generally can be considered to be in default when a payment has not been made for a period of 270 days.  Once in default, the government has "extraordinary powers" to collect (see below).
4) Private student loans are a bit different, though. The definition of "default" depends on the contract, and may include simply missing one payment or the death of a co-borrower. Private loan lenders don't have the same collection powers as the federal government but they can sue the borrower, and if they are successful, then use whatever means available under state law to collect the judgment.
5) Expecting a tax refund?  If you're lucky enough to have a job, you may have to kiss your tax refund goodbye.  If a federal student loan and in default, the federal government can intercept part or all of you tax refund.  Married filing jointly?  Yep, good guess!  A spouse's portion of the refund may be at risk too, and they may have to file an injured spouse claim to recover it after the fact (although private student loan lenders cannot claim tax refunds).
6) Wages may, and most likely will, be garnished.  Normally, a creditor must successfully sue you in court in order to garnish your wages, and even if they are successful, there may be state limits on whether and how much income can be taken.  But if you are in default with a federal student loan, the government may garnish up to 15% of one's paycheck.  While you may be able to challenge the garnishment under certain circumstances, but in the meantime, do you really want your employer to know you are in serious trouble with your loans and financial management?
7) Any co-borrowers/signers are in trouble too.  Anyone who co-signed a student loan is on the hook for 100% for the balance.  It doesn't matter if it is a relative, friend, stranger; anyone that puts their name on the loan contract is then liable for whatever is left/accrued on the loan.  Simple.
8) One can be sued.  Lawsuits are less common with federal loans than with private ones. (After all, why would the government sue when it has so many other ways to collect?) But a lawsuit is always a possibility especially if you ignore your student loans.  If/when sued, it is advised to seek the help of an attorney experienced in student loan law to raise a defense against the lawsuit and come to some agreed resolution.
Essentially, one in default will be haunted by this debt for life.  It may sound blunt, but it's the reality and better the devil you know.  There is no statute of limitations on federal loans, which means there is no limit on how long you can be sued and it simply does not go away.  State statute of limitations do apply to private student loans, however, limiting the amount of time they have to sue to collect.  But it doesn't stop them from trying to collect — and if one doesn't know their rights it may go on indefinitely.
But What if You Can't Afford to Pay?
For starters, get your free annual credit reports to see where things stand.  Personally, I like and use CreditKarma.com.  It's free, secure and easy and will give constant monitoring and one will have a clear understanding of how debt is affecting credit.  There's also the National Student Loan Database to track down your loans.
For federal loans, you can get back on track with a reasonable and affordable payment plan.  Programs available for federal loans such as Income-based Repayment (IBR) that allow some borrowers to qualify for a lower monthly payment based on income, and then discharge the remaining balance after a certain number of years of repayment may be an option.
For private loans, talk with an attorney who understands how to discharge certain private student loans in bankruptcy.  It can be tough to qualify and it's getting more difficult, but not impossible. If that's not an option, you may be able to try to negotiate a settlement?
While it's never a good idea to ignore loans, there are times when a borrower simply cannot afford his or her loan payments. Fact of life but if ever in said situation, remember to prioritize.  Federal loans are more important than private ones.  Ignoring any debt/loans can be painful and have negative consequences to your lively-hood, but doing so at the federal level is life-long.