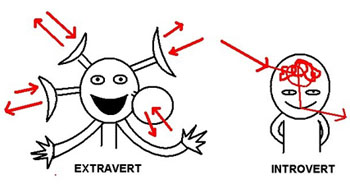 I write this post on a slight tangent from my norm, combined with a new and refined empathy with a long-time friend of mine, Bob McIntosh, who writes a blog called "Things Career Related." Frequently, his entries are prompts or opinion leading to healthy debates about the differences between 'introverts' and 'extroverts' as related to the Myers-Briggs continuum. Bob has long taken the stand of needing to define, defend and promote the world from the introverts' side of the spectrum reasoning the argument being that the world is essentially created, defined and facilitated by extroverts.
Whether true or not, this post is not intent (here) in debating about which side of the fence has the 'healthier' attributes, or is more competent or capable in the world of work. This would be better left to pundits and experts that are far more experienced and studied than I. But that now being said, it IS written, as stated above, with a new-found empathy on my part in understanding what Bob has long been authoring about the introvert/extrovert debate as the other day I was, for lack of a better word (so I'm making up my own), experiencing an "essault!"
A quick definition of introvert vs. extrovert will define the former as one who essentially likes to charge their batteries by retreating inward, into their head. A good book, some quiet time, walking, something not necessarily alone, but with the stimulus meter being dialed back a bit. The Myers-Briggs, the Holy Grail of personality definition and character trait, defines it as; "Introversion (I) – I like getting my energy from dealing with the ideas, pictures, memories, and reactions that are inside my head, in my inner world. I often prefer doing things alone or with one or two people I feel comfortable with. I take time to reflect so that I have a clear idea of what I'll be doing when I decide to act. Ideas are almost solid things for me. Sometimes I like the idea of something better than the real thing."
Whereas an extrovert, swinging the pendulum the other way, gets their recharge by talk, and I mean lots of it. Verbal engagement would be the key, and the need, to an extrovert's indulgence.  Again, according to the Myers-Briggs; "Extraversion (E) – I like getting my energy from active involvement in events and having a lot of different activities. I'm excited when I'm around people and I like to energize other people. I like moving into action and making things happen. I generally feel at home in the world. I often understand a problem better when I can talk out loud about it and hear what others have to say."

With definitions in place, recently I met, or rather was 'essaulted' by what can only be called, the poster-child of the extroverted side of the spectrum.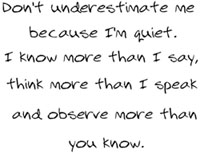 Sitting in a crowded cafe, I happened to have a table that still had some open real estate. With the available chair, a woman plonks down and says 'hi.' Staring into my laptop, writing, yet with a book available by my side, cover side-up, stating it's intent with baited breath to be read. To many it might be obvious I'm in the middle of a task or two? I answer, saying 'how are you?' in return and go on with my writing.
That was a mistake; answering with an open-ended question as this was apparently taken to mean that I was wanting to know not just 'fine' or 'not-so-fine,' but everything.
Several weeks for the next hour, I was barraged, spoken at, 'essaulted' with such a flurry of words that I was dumbfounded! I had never seen such a thing nor experienced someone who simply just, to use a metaphor, 'drops all their luggage in the hotel lobby!' Every possible factoid of this person's life that could be pried to fit within a one-hours' time-frame! I heard all about her childhood. Her move to Massachusetts from Virginia and the Carolinas. The details of her divorce. The fact that her daughter is with her ex and 'shouldn't be.' How the ex is such an a** and all of the facts, details and supporting evidence as to why. How her work has been so compromised and how, now carrying two jobs, as a PCA and a delivery person for Domino's that she's making ends meet while 'on the way to her Ph. D. in something.' Of course once she's done with her associates' degree! How her Jeep Liberty came about from her ex selling off the Honda Civic without her consent and getting a Dodge Ram pick-up. Not sure of the connection but she drives a Jeep Liberty.
Quickly, I could feel the pressure of the walls as the cafe seemed to be really closing in on me. My side of the table drew smaller and smaller. I was tempted in the earlier part of the completely unilateral 'conversation' to say something polite to properly euthanize what was to become an interminable event.  The internal dialogue begging, shouting actually, to say "Please SHUT the heck up! Can't you see I'm doing something and not your sounding board?" But the external dialogue was, "that's nice," or "too bad," etc. Surprisingly, I did nothing, as a sort of anthropological switch flipped and I became a bit curious to see, simply, how this would go if I were to let it play out to its organic end?
But on it went, and at one point within all the verbiage, a question from her court popped out. She asked "what am I doing?" As I started to answer, "I wear a few different hats and…." That was it.  She stomped on my response mid-sentence and interrupted saying she "has many hats too and that she wears them in support of her teams, etc." Many of them are "actually in her Jeep Liberty so she can switch them up! Gotta support your team, you know!" With that, I tried to throw in that I meant 'many hats' in the metaphorical sense, but when I spoke it, like before, as my words were leaving my lips in an attempt to make it across the table, they were met with her verbal defense system being fully armed. Her arsenal of words carpet-bombing and obliterating my response like a thought bubble with a dart through it.  It never made it near the half-way point across the table and just crashed down looking like a collection of Scrabble letters.  I could as well have been talking to a house plant.  My words would have no audience with her.
So, there I sat, glassy eyed, bored, not really being able to intake or process any of the words being thrown my way. What most concerned me was that my dazed look, my glance bouncing off her forehead to other distant parts of the cafe, the fact that of the hour in total my inclusion in the 'conversation' could have been counted in syllables much less actual words, never seemed to register on her part in any way? Not one iota of content was needed from my side of the table and there was absolutely no measure on her part as to how her verbal mortaring was simply distributing shrapnel in my direction? When, after said hour, she FINALLY seemed to slow to catch her breath, I started to pack up and excused myself. I said "nice to meet you" and headed out on my way, quickly. I don't think I've ever been so exhausted in my life compared to how I felt after fielding the time sitting across the table from this woman.
Bob, you've long argued, to paraphrase, 'that it is the extrovert that runs the world while the introvert quietly maintains things behind the scenes.'  Bob, as a fellow introvert, I sympathize with you.  I empathize with you even. But, I disagree with you.  In my observations, the world is run by the introvert.  It may be 'advertised' and 'marketed' by the extrovert, but it is the introvert doing the planning, thinking, calculating, creating, reflecting and executing of how it is to move forth. The extrovert necessarily carries the bullhorn!