For the class of 2016, May's graduation may seem quite a ways away still, and it is, but what you do now can greatly affect what happens in May. The holidays fast approaching, now is a great time to be starting to think, and act, on cleaning up your on-line persona. Using the time now to be making sure, as you start to meet with potential employers, that your 'digital footprint' is working in your favor. Here are some steps and ideas to make that favorable impression when launching into your the beginning of your career!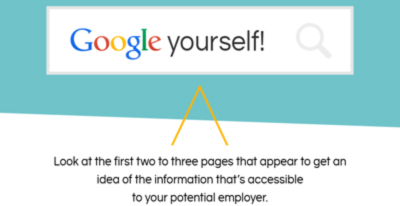 1.  Search yourself!
Google your name and see what everyone else would see if they did the same.  This is a good opportunity to see what's 'out there' with your name attached.  Once seeing anything that might not be favorable, now's the time to be proactive and get it eliminated, 'sanitizing' you on-line presence.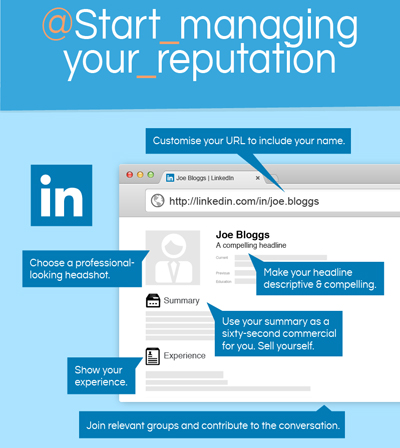 2.  Start managing your reputation.
LinkedIn is a great place to start and the best thing about it; you get to control what's said and how it's presented. You can use your privacy settings to your advantage to decide who sees what and when.  The same can go for updates to your LinkedIn site, allowing people to see, or not see, your updates and edits.  the great thing about LinkedIn is that it not only gives you a chance to make a favorable presence in terms of content but a canvass to get involved with other people involved in things you are interested in.  You can get into individual discussions, get involved in news or discussion groups.  All various modes of demonstrating your prowess for certain topics, discussions or fields of interest.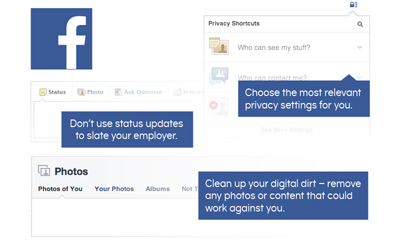 3.  Check Facebook privacy settings
If you think employers will not be checking you out on-line, think again.  They do, they will and will also look for various avenues to see what portrayals your digital footprint leaves behind.  It's very important that you take this time to clean up and comments, photos, events, etc., that may compromise your impression.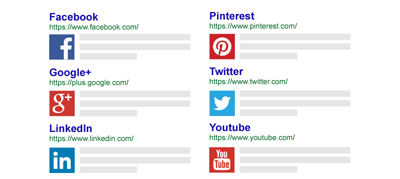 4.  Think before you post anything
All of the possibilities for social media represent a mosaic of 'who you are,' at least on-line and your hope is to present as favorable of an impression as possible!  Be wary of anything that may be posted, said or uploaded. Imagine a compromising tweet that is re-tweeted or a suspect photo that is shared.  Once you've hit 'send' it's out there – forever….